What is Cogitum Co-Citer ?
Cogitum Co-Citer is a tool for creating collections of texts from the Internet. It automatically captures the selected text, its Internet address, its title and date of adding to the database.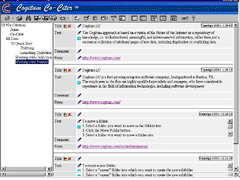 The Cogitum Co-Citer screenshot
The program even allows you to assign your own comments and place it to a specified folder. Once a text has been grabbed, you can:
Create and manage new collections;
Create and manage folders for organizing texts;
Add comments about the grabbed text;
Sort records according to various criteria;
Follow the link associated with the grabbed text just by clicking on it;
Import/export collections to work with them at other computers, to split a large collection into smaller ones, or to combine small collections into a larger one;
Publish the collection as a Web page;
Send the collection by e-mail;
Control how the grabbed texts and information are displayed;
Search the collection;
Print texts from a collection;
Delete grabbed texts from the collection.
Cogitum Co-Citer runs under Windows 95/98/2000/NT and requires Microsoft Internet Explorer 5.0 or higher. If you are not sure what browser do you have you can click here to get your browser name and version.